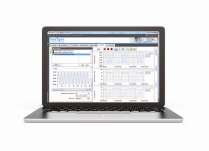 NexTgen softwares are essential tools in the use of ultrasonic generators for: setting, monitoring and preventive maintenance of our equipment. These software tools provide unequalled flexibility for adjustment, control and optimization of ultrasonic cleaning cycle. They are particularly used for the first tests, and then by maintenance crews to control the equipment.






---

NexTgen Start Edition software
NexTgen Start Edition software is essential and free to adjust and control power, cycle duration and frequency. It also allows you to view the kind of potential default occurring. NexTgen Start Edition software is connected the generator via the RJ45 port of the generator.
---

NexTgen Avanced Edition software
NexTgen Advanced is the software to make advanced diagnosis of ultrasonic transducers and generators, as well as monitoring the progress and stability of frequency and ultrasonic power.
Connected to the ultrasonic generator through the RJ45 port, NexTgen Advanced software is used to:
Adjust the ultrasonic cleaning cycle: power, frequency, timer, and temperature of the bath,
Monitor the progress and stability of ultrasonic parameters during the cycle,
Check the ultrasonic emitter status,
View the history of changes and defaults,
Save or easily export all the data and ensure the traceability of the cleaning process.