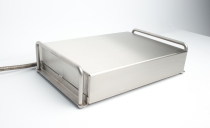 Immersed transmitters have the advantage of being easy to install, even in a tank which was not intended for that at the origin: they are simply placed or fixed in the tank and have the same cleaning effect as the transducers fixed directly on the tank. Replacing of immersible transducers is easy. SinapTec submersible transducers are designed for long life and optimum cleaning performance. On the one hand, they are made of 3 mm thick stainless steel. On the other hand, the transducer units, from our own design, are secured within the box by a specific method resistant to ultrasonic cleaning up to 80 ° C. The ultrasonic immersible boxes are proposed at 28 kHz, 40 kHz or 100 kHz and are driven by NexTgen inside ultrasonic cleaning generators. Submersible ultrasonic cleaning emitters are available with different mounting methods: with hooks, brackets, or simply placed at the bottom of the tank with a basket holder.
---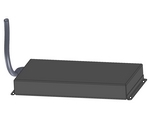 Immersible transducer box with brakets
The box equipped with brakets can either be fixed on the side walls of the tank or placed at the bottom of the tank.
---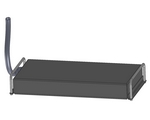 Immersible box with basket holder
This model of ultrasonic immersible transducer is delivered with basket holder, which allows you to place it at the right distance from the vibrating membrane, and also to protect the vibrating surface against direct contact with the washing basket.
---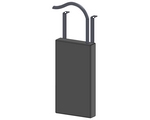 Immersible box with hooks
The hooks allow hanging the immersible box on the side of the ultrasonic cleaning tank.