NexTgen from SinapTec changes ultrasonic cleaning for industrial users as it enables to monitor the efficiency of the ultrasonic cleaning bath, to ensure the stability of the frequency and ultrasonic cleaning power, and to reduce maintenance costs. This patented technology is the result of SinapTec 30 years experience as an ultrasonic cleaning manufacturer and gives our customers the guarantee of a reliable and reproducible ultrasonic cleaning.


Ultrasonic cleaning generators and transducers
NexTgen Inside ultrasonic cleaning generators are available in three sizes depending on the power, up to 2000W. They are guaranteed for 2 years and offer integrated functions like ultrasonic cleaning bath temperature monitoring, timer, transducer diagnosis, analog signal or Ethernet networkfor power control and monitoring.
Depending on the application, different types of ultrasonic cleaning transducers and ultrasonic frequencies are used: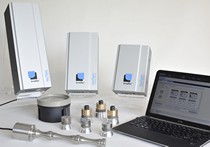 Monitoring and preventive maintenance of ultrasonic cleaning tank
Ultrasonic cleaning NexTgen tools provide exclusive innovations:
NexTgen ultrasonic Analyser is a measuring device to diagnose and monitor the efficiency of your ultrasonic cleaning equipment.
These functions are natively integrated in SinapTec NexTgen generators.
NexTgen Advanced is the software that allows you to get equipment diagnosis and ultrasonic cleaning generator control data.
Ultrasonic cleaning product range
SinapTec masters the NexTgen ultrasonic cleaning products range : development, testing, support, after sales services... Our products are adapted both to autonomous ultrasonic cleaning tank or multi-tank machines. They can be used for ultrasonic pre-treatment prior to surface treatment and galvanic parts treatment, for aerospace and mechanical industries; for precision ultrasonic cleaning in the fields of watch making, jewelry, screw cutting ; or for ultrasonic decontamination for pharmaceutical, food industry, nuclear or medical industries.
To select the optimal ultrasonic cleaning configuration and meet your need, please refer to the page How to choose? or Contact us.